1. Established in 1978, We have our own factory, Ho Chiun have rich specialized experienced over 40 years in the manufacture of precision turned CNC parts for OEM applications worldwide...all of the world.
2. Main of product: OEM ( machine parts, turned parts ), especially high complex, accuracy and smallest tolerance turned parts .
3. The CNC machines can produce material bars of outer diameter about Ø1mm ~ Ø200mm. Material - stainless steel, steels, aluminum, brass, plastics, titanium alloy... etc.
4. We have the best quality, price, delivery, and service.
¡@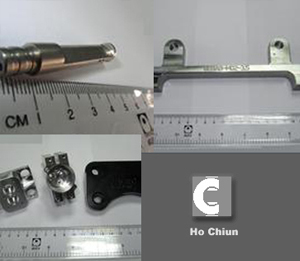 Company Name

Ho Chiun Industrial Co., Ltd.

Product Items
1. Position Transducer Parts.
2. Sensor Parts.
3. Medical Equipment Parts.
4. Optical Fiber Parts.
5. Shaft Parts.
6. 3C Metal Parts.
7. Diving Parts.
8. Office Machine Parts.
9. Hydraulic Tools Parts.
10.Pneumatic Tools Parts.
11. Ship parts.
12. Champagne Bottle Opener Parts.
13. Art Parts.
14. Telecommunication Equipment Parts.
15. Machine Parts & Turned Parts.
Export Country
All of the world.
Tel
886-2-8521-3326~8
Fax
886-2-8521-3329
Address
No.6, Lane 431, Hwa-Chen Rd. Hsin Chuang Dist., New Taipei City, Taiwan, R. O. C.
Company Web
http://www.hochiun.com.tw
Contact People
Lydia or Wisely
E-mail Address
ho.chiun@msa.hinet.net
Payment terms
L C / T T
Delivery
30-60 day

Export Port

Keelung